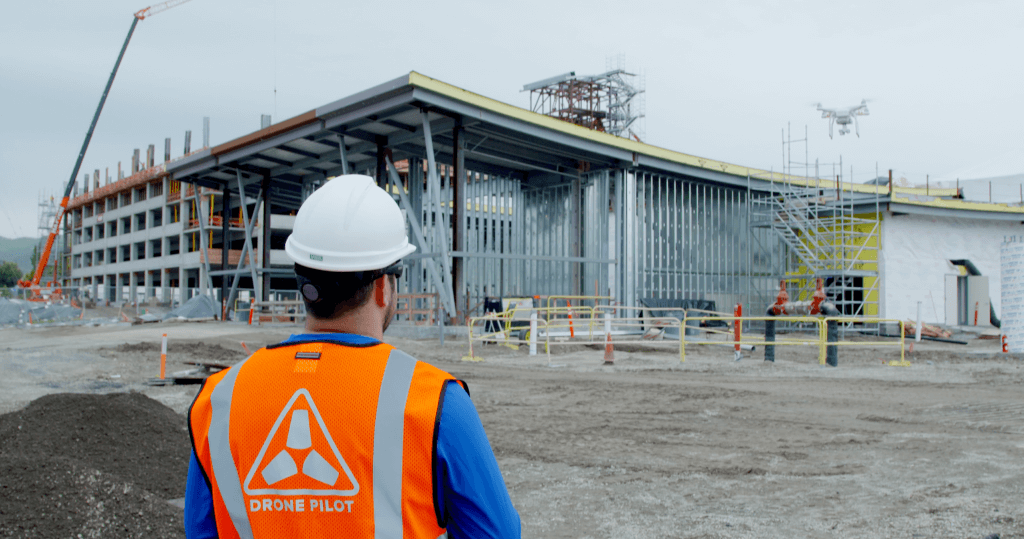 Skycatch is excited to announce the official release of our new iOS mobile flight app, COMMANDER! Now anyone with a DJI drone can easily create high-resolution maps and 3D models in just a few taps.
Meet your new drone pilot - COMMANDER
Outline the area you want to map, tap to takeoff, and COMMANDER will take care of the rest. In app instructions will be there to guide you every step of the way.
Hailed by DJI as one of the most powerful new mobile apps built on the DJI SDK, COMMANDER iOS is compatible with the DJI Phantom 3 (Advanced & Professional), Inspire 1, and the new Phantom 4.
Download COMMANDER now in the App Store!
Commercial-grade solutions made accessible
Skycatch spent the last 3 years developing technology in partnership with the world's leading construction companies, including Komatsu, Bechtel, and Clayco. After spending months in the field with our customers from Alaska to Australia, we learned a lot about using drone technology to improve construction and engineering. Most importantly, we learned that the solutions available were complicated, expensive, and error-prone – it's not supposed to be that hard.
We solved this by developing simple, cost-effective solutions designed for a user experience so effortless that anyone can easily get started with drone data and realize immediate ROI.
Now we're making that technology available to everyone, and it all starts with COMMANDER.
The app is specifically designed for use in industrial environments. Construction, inspection, and survey drone data is in high demand, accounting for 40% of FAA exemptions. DJI drones are used by more than 70% of the commercial market, Skycatch and DJI joined forces to create the #1 industrial drone data platform in the world.
We could not be more excited to work with DJI on COMMANDER. In addition to producing the best drones on the market, DJI has the #1 drone SDK in the world, and the support from their SDK team is unparalleled.
"The goal of DJI's SDK has always been to facilitate the creation of a robust ecosystem of apps, such as COMMANDER," said Darren Liccardo, DJI Vice President of Engineering, Systems and Applications. "Professionals know best what the use case is for our aerial platforms in their specific vertical sectors. Skycatch's developers have made optimal use of our open APIs with their innovative mapping and modeling application."
How it Works
COMMANDER makes mapping with your DJI drone so easy you can create aerial maps in minutes.
Outline the area you want to map and COMMANDER will autonomously fly your mission for you from takeoff to landing.
Never again worry about: where should I put waypoints, how high and how fast should I fly, what overlap do I need? We've tested a large variety of drones and cameras extensively and have built-in algorithms that guarantee the best ground resolution and consistently perfect maps from every flight.
We also added a blazing-fast routing algorithm that not only ensures perfect photo coverage, it ensures that the drone never leaves the programmed flight area. This is incredibly important for many job sites that border no-fly zones, have an irregular shape, and may be near sensitive areas. No matter what shape, what size, COMMANDER routes your drone only within the desired flight area. No other flight app on the market can do this.
"Amazing user experience. It couldn't be easier to use, and I haven't found another app that handles multiple flights so flawlessly." Reviewer in App Store
COMMANDER launches with the following features designed specifically for industrial customers and use cases:
In-App Guidance
Location search and stay-in-area flight routing
Live video feed for FPV
Multiple flight support
Convenient organization of missions
Flight statistics
Automatic drone detection and system checks
Easy flight monitoring
Once you've flown and collected your data, upload for automated cloud-processing and access, analyze, and share your maps and models in the Skycatch Dashboard (click here to start your free trial!). Professionals in construction, mining, and energy use Dashboard to inform business decisions and carry out functions such as calculating assets, planning logistics, and reporting progress.
With step-by-step in-app guidance, automated features for flying, and direct access to processed imagery via web browser, COMMANDER is putting aerial data just a few taps away.
Tell us what you think!
Share your feedback and feature requests on our Community Forum.
Love the app? Please take a minute to leave a review in the App Store. It really helps!
For a full feature walkthrough of COMMANDER, click here.