Our friends at NVIDIA have recently published a Solution Showcase about Edge1, our dual functioning GNSS receiver and in-field processor. Edge1 is an integral part of the Skycatch High Precision Package (HPP) for Mining.
HPP is used all over the world by leading mining companies on their most challenging sites. It combines state of the art hardware with cutting edge cloud processing and software.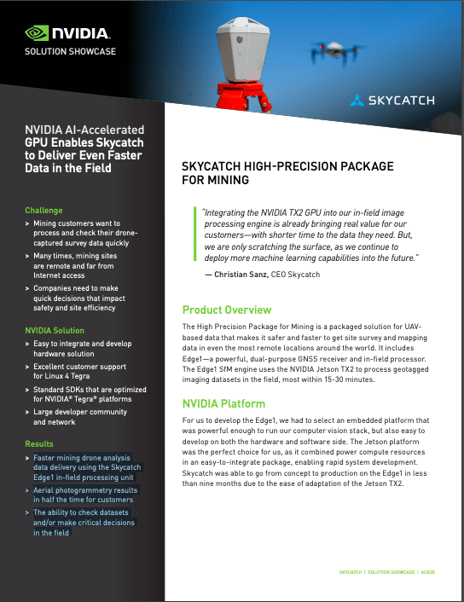 Drone surveyors and geotechnical engineers use Edge1 as part of the overall workflow for mapping high walls and other areas in open pit mines. It allows them to get precise, high-fidelity point clouds safer and faster than traditional surveying techniques.
With the NVIDIA Jetson TX2 graphics processing unit (GPU), time to data in-field has been cut in half. Process your aerial data and view 3D models of your site on Edge1 in 15-30 minutes in most cases.
The results for mining companies are clear:
Faster mining drone analysis data delivery

Aerial photogrammetry results in half the time for customers

The ability to check datasets and/or make critical decisions in the field
Skycatch is excited to have partnered with NVIDIA in bringing better processing times to our mining customers. And, with their continued focus on high performance computing and AI innovation, the future is very bright. Our CEO Christian Sanz sums it up well:
"Integrating the NVIDIA TX2 GPU into our in-field image processing engine is already bringing real value for our customers—with shorter time to the data they need. But, we are only scratching the surface, as we continue to deploy more machine learning capabilities into the future."
Please be sure to check out the full NVIDIA feature here.