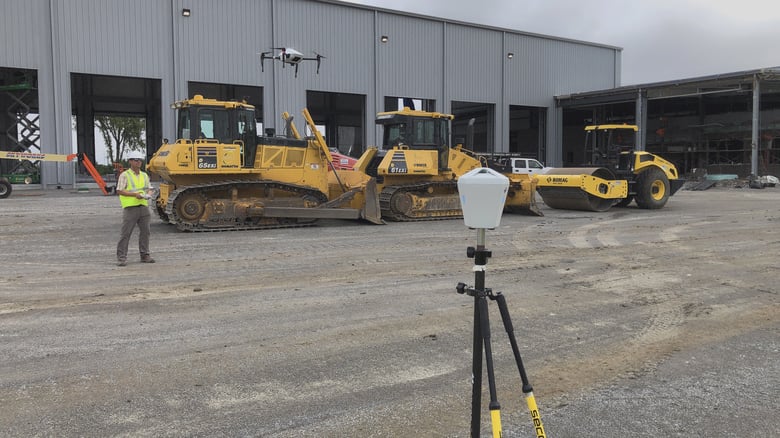 October 3rd, San Francisco, California – Skycatch is pleased to announce a reseller agreement with Bramco Inc., the parent company for Brandeis Machinery and Supply and Power Equipment Company, now adding the High Precision Package to their fleet of industrial geopositioning products. Skycatch is a San Francisco based aerial analytics company that specializes in empowering customers to receive accurate, consistent, and rapid collection and delivery of aerial data. This provides a unique offering to the customers of Bramco.
Bramco aims to provide the complete end to end solution for customers to leverage the benefits of a seamlessly integrated job site. From pre-construction survey mapping, project coordination & monitoring to completion, Bramco offers the latest in technology with tailored consultations for unique site needs.


The High Precision Package is a full-stack solution that contains the Explore1 GCP-free UAV, the Edge1 integrated GNSS base station and in-field data processing unit, and the Data Viewer, an online data visualization and analysis tool. This is all packaged into one, commercial-grade kit for rapid aerial data collection, processing, and analysis.


"Everything we've created at Skycatch has been a direct result of feedback from the market. We're proud to be partnered with a distributor that has the same values of listening to the market, adapting accordingly, and maintain a high standard of service and support for their customers. It is a natural fit to be partnered with Bramco," said Jim Mongillo, Head of Sales and Customer Success, Skycatch.


This comprehensive solution allows a user to fly, collect site data, and process in-field. To process high precision aerial data, there is no need to find internet, cellular, or network connectivity with the Edge1 integrated base station and in-field processor. This can deliver 2D maps and 3D point clouds in about 30 minutes or less, site depending.


"We've tested the solution ourselves and fully stand behind the High Precision Package's capability and enormous value it delivers to customers for site measurement and reporting. We look forward to continuing supporting job sites with the addition of Skycatch to our fleet," said Joe Kiesel, Geo-Positioning Manager, Bramco, Inc.


Bramco has the tools that allow its customers to use resources most effectively, increase safety, and deliver projects according to schedule by leveraging the latest technology. For more information, visit www.bramco.com.
About Skycatch:

Skycatch is the #1 aerial analytics platform catered to the enterprise client, with distributors and partners globally. Deployed in over 85 countries, used on the job sites of multiple FAANG companies, and is proud to have the most prolific representation across the ENR Top 400. Skycatch serves the construction, mining, and utility industries with white-glove service and support on over 10,000 job sites worldwide. For more information, visit www.skycatch.com