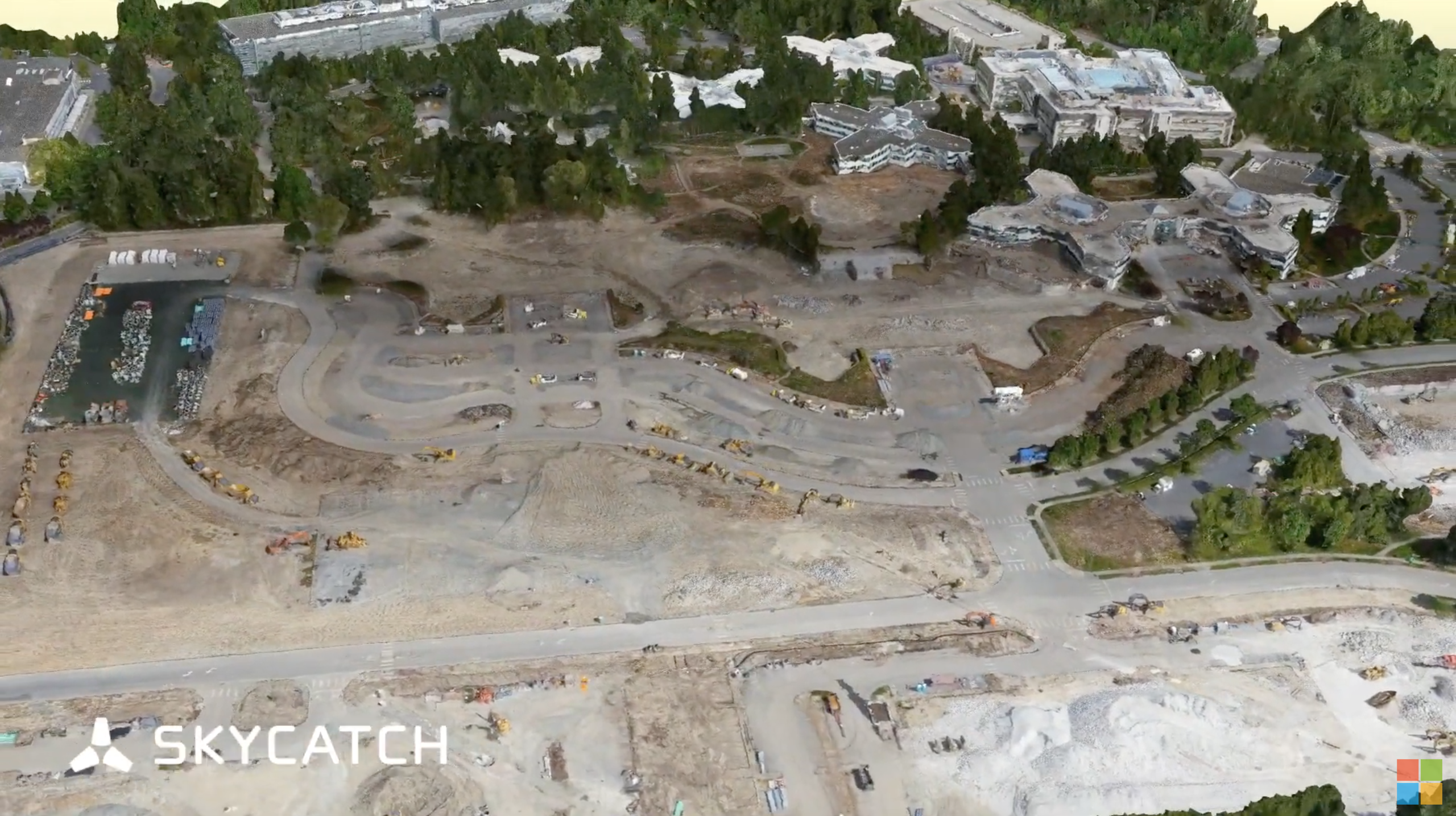 How do you coordinate on a project that's larger than all thirty NFL football fields combined? Or move enough post-demolition concrete that's equal to 1.3 Empire State Buildings? That's just some of the questions that had to be considered when undertaking the construction of Microsoft's Redmond campus, a massive modernization project that kicked off in January 2019. In order to track progress on a project this size, Microsoft leveraged the high-accuracy 3D data generated by the Skycatch High Precision Package.
Watch the video below to see a 3D timelapse of the old Redmond campus demolition and early earthwork phase:
Skycatch's expertise on large megaprojects is one of the reasons why many of the top ENR general contractors trust Skycatch as their drone data partner. The Skycatch High Precision Package high accuracy and industry-leading time-to-data help these companies reduce rework and ensure schedule while enjoying an easy, seamless workflow thanks to the fully-integrated solution.
The workflow is straightforward: a pilot flies the Skycatch drone weekly, capturing aerial data on excavation, foundation, and utilities. Once processed in the cloud, over 150 stakeholders on the project access the data through the online portal and the 3D data is downloaded and fed into as many as 100 different BIM models, where progress is measured against design.
"In the past 2 years, we have seen drones on construction sites go from rare peculiarities to totally commonplace. Most users are still just doing videos and photos. We are focused on turning that into quantifiable data, which allows construction companies to adopt modern data-centric management practices. This is part of a greater surge in construction that is focused on reality capture."

- William Pryor, Enterprise Solutions Manager, Skycatch
Ready to modernize your construction process? Give us a call at 1-866-SKY-4-ROI! Still considering solutions? Watch our Juniper Unmanned webinar, where two leading UAV systems are put to the test to determine the most efficient drone data solution.